Bula Matari (Breaker of Rocks), a chamber opera by Joshua Charney
May 22, 2017 | 7pm
Conrad Prebys Music Center
Experimental Theater
San Diego, California
I served as pianist for the premiere of three selected scenes of this opera.
From Charney: "it's based on the true historical story of British explorer Henry Stanley and his final expedition through the African Congo into Sudan to rescue a Egyptian appointed governor from Sudanese Islamic freedom fighters. Part of the story may have been the inspiration for Jospeh Conrad's Heart of Darkness. My musical inspirations are grounded in the early 20th century operas of composers like Strauss and Stravinsky, as well as my own experience with jazz, and my research concerning Iranian ritual opera called Ta'ziyeh."
April 29, 2017 | 4pm
Conrad Prebys Music Center
Recital Hall
San Diego, California
Kid-friendly = they can talk during performance!
Infant-friendly= they can cry during performance!

The program featured Fireflies by Amy Beach, Piano Sonata No. 28, Op. 101 by Ludwig van Beethoven, and
Ballade No. 1 by Frederic Chopin
Free crayons on stage.
The kids were cool as well!
King Yue Li (Filbert) mini-tour @ SoCal
April 25, 2017 | 7pm
Conrad Prebys Music Center
Recital Hall
San Diego, California
April 26, 2017 | 7pm
MiMoDa Studio
Los Angeles, California
I managed and booked King Yue Li's SoCal tour - my first time as a manager!
Winner of the Japan-Hong Kong International Music Competition and the Hong Kong-Asia Piano Open Competition, King Yue Li traveled across the United States, Germany, and Hong Kong to perform in solo piano recitals, chamber ensemble concert, and harpsichord salons. Born in Hong Kong, King Yue is a holder of the Masters degree in piano performance at Temple University.
Recital with Kirsten Wiest (coloratura soprano)
April 8, 2017 | 7pm
Conrad Prebys Music Center
Concert Hall, San Diego, California
In this concert, we played music by John Zorn, James Erber (London), and Bill Alves. Recordings can be found here.
A "new music natural," Kirsten has traveled to numerous venues in France, Texas, and California for concert and operatic performances. She is also the winner of the Young Musicians Foundation Concerto Competition in 2015, when we collaborated in playing Ligeti's Mysteries of the Macabre. (See also her orchestral performance here.)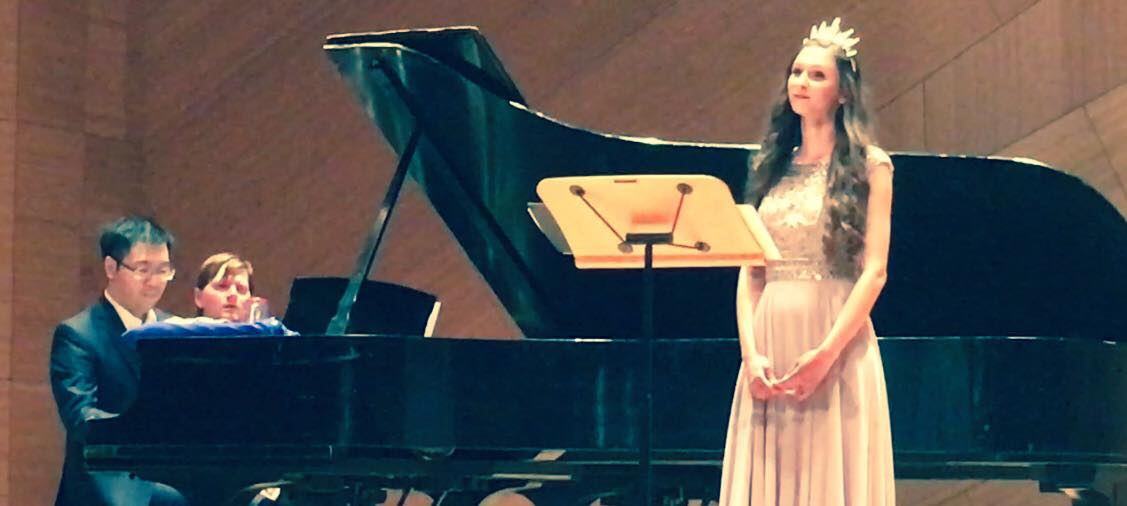 The Finnish goddess singing John Zorn's jumalattaret
Presentation at the International Musicological Society Congress (Tokyo)
March 22, 2017
Hall 1, Tokyo University of the Arts
Ueno, Tokyo, Japan
The most recognized learned society in musicology around the globe, the IMS holds its quadrennial congress (the 20th this year) in Tokyo. I'll be presenting the academic paper "Unpolitical Music as Response to Political Apathy in Hong Kong."
Course instructor appointments
July to December, 2016
I taught "Western Classical Music Appreciation" (180-student, big lecture-hall style class), "Music and the Theatrical Mask" (upper-level undergraduate seminar), and "Popular Music: Hong Kong Identities and Politics" (lower-level undergraduate lecture) at the University of California, San Diego.
Music I taught in the Appreciation course include Beethoven's Piano Concerto no. 4 (second movement, "Orpheus in the Hades"), Undine Smith Moore's oratorio Scenes from the Life of a Martyr, and Lei Liang's piano concerto Tremors of a Memory Chord.
Course syllabi are available upon request.
More Notable Events

Curator and Coordinator, Intercultural Music Conference and Concerts, UC San Diego, February 26-28, 2016.
Special Discussion Section Leader and Teaching Assistant, for Undergraduates with Basic Needs in English Writing (majority minorities and international students) Revelle College "Humanities" Writing Program, UC San Diego, January - June 2016.
Disabling Schubert's Erl-King, Collaboration with ASL (American Sign Language) performer and percussionist , Dec 1, 2016.